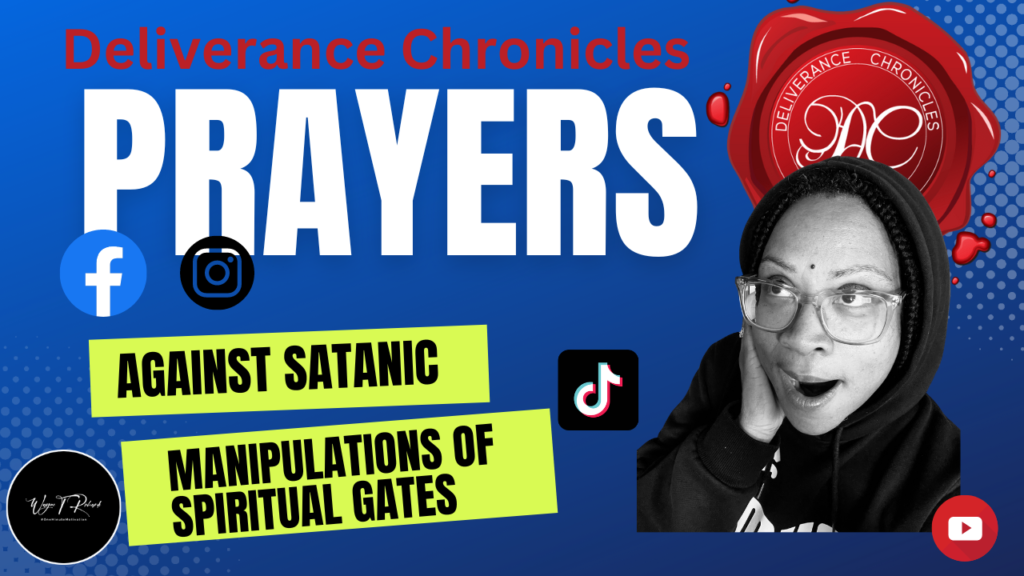 Lord we pray against all SPIRITUAL GATES Where there is a continuous problems and Strongholds Where there is a stronghold there is an altar; where there is an altar, there is a gate, (2 Kings 23:8, Ezekiel 8:5); where there is a gate there is a guardian to this Gate, who sits under the authority of the "Strong Man";
Father, I repent for where I have not taken possessions of the gates you have given me the authority to posses. Lord I need your assistance in dismantling the control of all Gates by the possessors of the gates in my life, my nation, my city, all gates of wickedness in my jurisdiction.
We pray for all gates of access to my life, home, community, nation , continent, village, city or state. Any gates where transactions take place that affect my life. We pray against all watch towers and the keeper of the watch. All gates that are in the possession of the enemy. Lord I declare that I possess the gates over my life, my nation, my city, all gates of wickedness in my jurisdiction.
According to Gen 22:17, Gen 24:60 "and thy seed shall possess the gates of his enemy", "and let thy seed possess the gate of those which hate them." We take control and influence of the territories of the enemies.
We take possession of the 12 Gates of the city, village or territory in which we reside, we neutralize all satanic operations and block all communication lines, movements, and activities within this area according Matthew 12:29.
Lord we pray that we will possess the Gates of our enemies and not the enemies possessing our gates.
Lord we posses the 12 gates of the heavens , the north, the south, the east and the west.
We also take control over the gates of the year
Winter Solstice – December, January, and February.
Spring Equinox– March, April, and May.
Summer Solstice– June, July, and August.
Autumn Equinox – September, October, and November.
We come against the Gates of Darkness where the forces of the enemy is seeking to wage war against us according Judges 5:8
Lord we come against the Gates of human body where the enemy has been using to gain access to our body and generations. We come against the access and every demon that came through The umbilical cord gates, Genitalia Gate, anywhere our destinies have been stolen. We come against demons that have entered the gate of the forehead, frontal lobe and third eye. Any spirit that blocks the unction or communication between our body, souls and spirit.
We possess the stomach gate and evict every demon that controls and resides in this area, our bowels, our innermost being our and our heart. Anything that came through the umbilical cords. Anywhere demons were imparted into our stomachs by touch . Every Curse that has been transmitted through our umbilical cords.
According to Psalms 101:3, "I will set no wicked thing before my eyes. And Lord I repent when I have done so and allowed our eyes to view things that gave the enemy access.
Anywhere my senses have been affected, Nose, Mouth, Sense of touch.
We come against all demonic points of contact. geographic location, items I have received clothes, money, shoes, souvenirs and all evil gates associated with accursed objects.
Gates associated with body's of waters, lakes, rivers, ponds, seas; or any place where water is collected, (Nehemiah 2:14).
All River mouth, rivers, a lakes, reservoirs, a sea and oceans and every gate occult. Gates of Volcanoes , Gates of Death
Lord we access the Gates of Legal Right, we also access the Gate of our Name so we may have access to all you have assigned to me and my lineage. We take and gain access to all that have been assigned to our names.
We access all gates of our parentage where blessings have been denied to us.  Father we are asking you through our declarative utterances to destroy the gates of wickedness and all that are being affected negatively 
Father we come against the gates of the Sun, the pyramids against Solar Magic emitted by the Son through the gates of the pyramid 
Every hill and mountain gates, every high place, mountain tops in the mighty name of the Soverign king of the Universe.